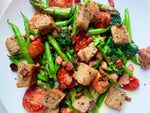 Created by Tony from Fitfatfunfood
This is a lovely versatile recipe which uses up lovely local seasonal vegetables and makes a robust, satisfying salad that can be served warm or at room temperature.
I used lots of lovely local seasonal veggies including asparagus, green beans, purple sprouting broccoli and tomatoes. You can use whatever you have including leftover potatoes, or whatever veg you have available. You can also add additional protein in the way of a poached egg, smoked ham or chicken.
This recipe serves 2 if you add additional protein. 
Ingredients:
100g smoked bacon lardons
2 slices stale sourdough bread cut or ripped into pieces
Handful of green beans trimmed
Bunch of asparagus trimmed
Handful of purple sprouting broccoli
200g small plum tomatoes halved
3 tbs olive oil
1 tbs lemon juice
tsp Dijon mustard
salt and pepper
Method:
Mix the tomatoes with one tbs of olive oil and roast at 180c for about 25 mins. 
Meanwhile, gently fry the lardons until the fat has rendered and they are crisp. Place in kitchen paper to drain but leave fat in the pan.
Place beans, asparagus and broccoli into a pan of salted cold water. Bring to a boil. Simmer for a few minutes. Drain and refresh in cold water. Drain. 
Fry the bread pieces in the bacon fat unitl browned all over and crisp. Drain. 
Make a dressing: put tsp of Dijon in a small bowl, add the lemon juice and remaining olive oil, salt and pepper and whisk with a fork until mixed.
Assemble the salad - arrange the veggies and tomatoes on the plate and drizzle the dressing on top. Sprinkle on the croutons then sprinkle on the lardons.
Add any additional protein or herbs and enjoy.
If you want the salad warm you can reheat the veggies in the pan you cooked the lardons and croutons in.