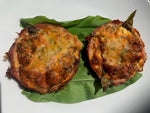 Created by Tony from Fitfatfunfood
We have teamed up with Tony from fitfatfunfood (you have got to follow him on Instagram he creates food that makes me envious all the time). 
I love a quiche but the thought of making pastry is what puts me off. This is a really simple, versatile and quick recipe to put together for brunch, a picnic or lunch and uses what you probably have in the fridge. You can vary the ingredients as you would with any quiche. 
I used a 4 hole Yorkshire pudding tin for this recipe. You could make them deeper with muffin tins. Just cook them for about 5 minutes more. This recipe makes 4 quiches.
Ingredients:
A pack of Lane Farm smoked ham
A tbs neutral oil
2 large eggs
100ml milk or cream. I used semi skimmed milk
1/2 ts salt and pepper
25g grated parmesan
Tbs chopped herbs such as chives
I added a slice of Fen Farm Dairy Baron Bigod on the top of each slice but this is optional
Method:
Turn the Oven on to 180c 
Lightly grease your yorkshire pudding tin
Beat the eggs with the milk
Add salt, pepper, grated parmesan and chives (and any other fillings you'd like, e.g. bacon, cooked lardons or veggies)
Spread out the sliced ham into the 4 holes in the tins to form a case. It's fine if the ham overhangs. Make sure the base and sides are covered.
Share out the mixture across the holes - they should come up to about 3/4 and remember they will raise
(Optional - grate extra parmesan and add a chunk of Baron Bigod cheese)
Bake in over for about 25 minutes (5 mins more if in muffin tins)
Note: This is the basic recipe so feel free to add other ingredients - pesto, wild garlic, cooked veggies, roasted peppers, salami, smoked salmon etc)