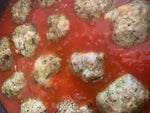 Turkey and Pork Polpette (Meatballs)
Created by Tony from Fitfatfunfood
As a child my Italian mum introduced me to polpette - Italian meatballs. The best ones she made were a picture of pork and beef, but you can also make amazing ones with minced turkey meat and good quality sausages. I made these with turkey thigh mince which has more flavour than breast meat and Lane Farm Brundish sausages. Feel free to use your favourite Lane Farm sausages. 
Ingredients:
A pack of Lane farm sausages, skinned
500g turkey thigh mince
30g grated parmesan
Handful of chopped mixed herbs like parsley and chives
2 slices of stale bread, cut into small chunks
1 egg
Salt and pepper to season
Teaspoon of fennel seeds (optional)
Teaspoon of dried chilli flakes (optional)
2 tins of good quality whole tinned tomatoes. If you can get San Marzano ones, the sauce will be even better
Tablespoon of olive oil
2 cloves garlic finely chopped
Another teaspoon of fennel seeds and chilli flakes
Method:
Put the bread into a small dish and mix in the egg to make a mush. Leave to soak for 10 minutes
In a large bowl with your hands mix together the sausage meat, turkey mince, the soaked eggy bred, chopped herbs, parmesan, salt and pepper. optional feel seeds and chilli flakes. Mix well and form into balls - you can go for small marble sized ones or go for larger ones. 
Place meatballs on to a large tray in one layer and put in oven for about 25 minutes until they are lightly browned. They won't cook through.
While the meatballs are in the oven, in a large deep pan, warm up a tablespoon of olive oil, add the chillies, fennel and garlic and let cook for a few minutes without browning. Add the pinned tomatoes and crush with a fork to break then down. Let simmer for 20 minutes until the sauce starts to reduce then add the meatballs and allow to cook, with a lid on for another 20 minutes. Season to taste. When cooked through add fresh herbs like basil.
Serve with pasta or crusty bread and extra parmesan.
Polpette In Coperte (Meatballs in Blankets)
This is a variation on the above recipe. Use the same meatball mixture and form into golf ball sized balls. Take some Lane Farm Brundish smoked bacon - either streaky or back and wrap around the meatball. Bake at 180c for about 25 to 30 minutes.